History of the Site
The Quarry Hill Methodist Church began as a top of the hill Open-Air Service of the Wesley Methodists from the Forest Street Church, Bendigo, in 1894. As they grew they leased out a small Carpenter's shed nearby in Harkness Street for their regular worship service (6 Pews) and a thriving Sunday School.
The land on the corner of Harkness (previously known as Duncan) and Russell Streets in Quarry Hill was purchased on the 17th February 1900 and had been Crown allotment eleven, section 108 at City of Bendigo Parish of Sandhurst, County of Bendigo. The Old Church was designed by local architect William Beebe, who offered his services at no cost. Foundation Stone was laid 5th November 1900 by Councillor A Harkness.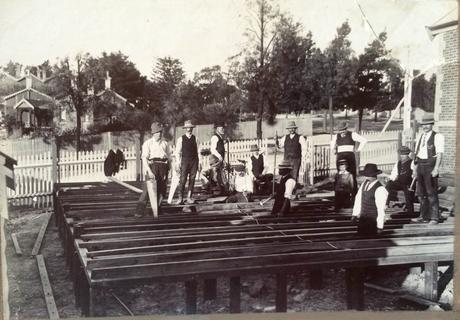 A weatherboard Sunday school hall was built alongside the Church in 1912 by volunteers. 'The School received a decided impetus when A.H. Randall joined the staff and proved a most efficient secretary until his retirement in 1918'…he also 'stimulated interest in the Department's examinations, and outstanding success was gained by a number of scholars through many years. Recently the national Film and Sound Archive of Australia released a wax cylinder recording of Albert Randall announcing the examination results. (NFSA title 1046098)
By 1936 two wings were added to the back of the church to include a choir stall and a vestry, and a front entry foyer was added soon after.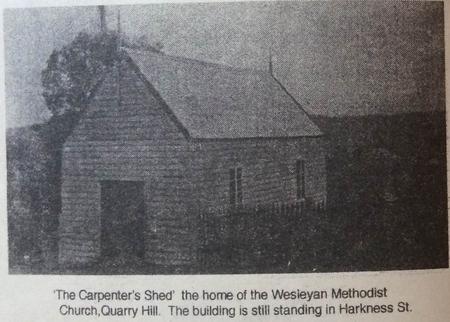 Another large hall was constructed behind the earlier buildings in 1961 on land purchased in 1938. This building is not included in this Heritage study and was constructed to house the Sunday school which serviced up to 160 children at a time, mostly from the local State School.
The Methodist Church congregation ran Girls 'Ray' groups, and Boy's 'Knights' groups, many Socials, Men's dinners, Women's Auxiliary of Overseas Missions, Ladies Guild which engaged with the Hospital and Nursing Home Ladies Committee, Christian Endeavour Classes, Young Marrieds Club, Tennis, Basketball, Netball and Cricket Clubs, regular Radio broadcasts of the Sunday School on 3 BO, Nursing Home visitation and a gymnasium!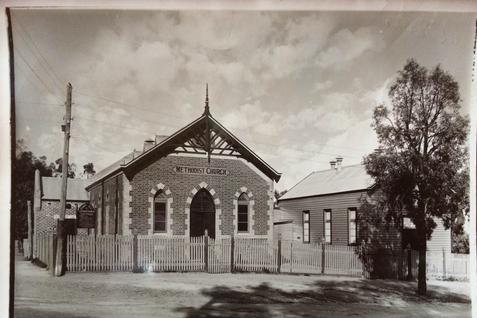 The Methodist church became part of the Uniting Church in 1977 and operated with visiting ministers. They continued to run a Youth Fellowship group, a Playgroup, Sunday school and Bible Study groups. Eventually, as a result of the Uniting Church consolidating in Bendigo from around 1991, and an aging and dwindling congregation, the Church was eventually closed and deconsecrated as a place of worship on the 11th of September 2011.
Component Industries, a philanthropic group in Melbourne, purchased the property from the Uniting Church of Australia on 13th November 2013 for Cornerstone Community to use as a Community Centre. Andrew and Rose Vincent and Lucas and Ainslie Frost, founders of the first Community Garden, are members of Cornerstone Community. It currently hosts a vibrant Community Garden, a couple of Playgroups, A Craft group, Dance groups, a Women's Choir, an Op Shop, Community Meal nights, Morning prayers, yoga, Mindfulness and Language classes, Seniors Table Tennis competitions, Extending neighborhood to Refugees, and a popular kids club. It is now called 'The Old Church on the Hill' and has partnered with the Blues and Roots Club, The Bendigo Folk Club, and the Bendigo Sustainability Group.